Plant's Review of Books Cover Index
Eric Rewitzer's covers for Plant's were the first things that most people saw of the magazine, and therefore it's appropriate that they are the first items to appear here. We're still in the process of putting our original issues--Plant's Classic, if you will--online, so not everything's linked up yet, but please bear with us. Selecting a cover will get you a large version of the cover, choosing the headline above the description will take you to that issue's title page.


---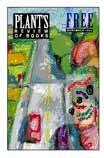 Premier Issue
Appearing days before the 1992 Presidential election, featuring thoughts on the nature of comedy, the profits from Mein Kampf, populist presidents, Harriet the Spy, Les Miserables, and the ins and outs of the antiquarian book market.



---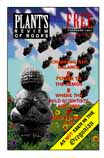 Special All-Male Sensitive-Guy Love Your Mother [Earth] Issue
A wholly unintentionally all-guy issue featuring reviews of Topsoil and Civilization, Stewart Holbrook, Athenian democracy, a photoessay by A.J. Zelada, and our special affinity for Mike Royko.



---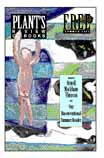 Unconventional Summer
Reader Issue
Our biggest issue ever! With reviews of Orwell's essays and letters, Hunter Thompson in fiction and cartoon, chess, The Story of Corn, Didion, original work by Doug Rennie on censorship, and poetry by Joan Maiers



---
The Anyone Who Stays in
Our House is a Guest
Editor Issue
The map of NW censorship, creation stories for kids, rules for writers, Levi-Strauss' The Way of the Masks, Jamake Highwater, The Game of LIfe, electronic publishing, chilling stuff by A.J. Zelada.



---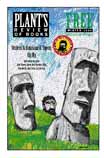 The Hoist-by-Your-Own Petard,
With a Side of Hubris Issue
A somewhat premature celebration of passing the one-year mark that wrecks so many young publications. With reviews of Thomas Bernhard, A.E. van Vogt, Tom McCall, Reynolds Price, Penelope Lively, Timothy Egan, Alexander Kuprin, John Cheever, fiction by Margaret Baker, essays by A.J. Zelada and David Loftus, and more...



---

Last Modified: 22 July 1995 by Darrel Plant
All reviews, articles, and stories © 1992-1995 by the authors. Other text and WWW material ©1992-1995 by Moshofsky/Plant Creative Services. All graphics ©1992-1995 by Eric Rewitzer, unless otherwise noted.
Hosted by